Color, Light & Atmosphere
This exhibition features a selection of masterworks from the Arkell Museum's permanent collection.
On view until May 23, 2021.
Artist include N.C. Wyeth, Grandma Moses, James Whistler, George Inness, Gilbert Stuart, Robert Henri, Walter Launt Palmer, Charles H. Davis, and William Glackens.
This exhibition will be on view until Sunday, May 23.
Charles H. Davis
On The West Wind, ca 1915
Oil On Canvas
Gift of Bartlett Arkell, 1929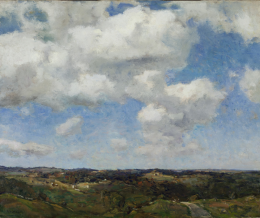 Winslow Homer: Illustrator
On view now through December 30, 2020
This new exhibition features the Arkell Museum's permanent collection of Winslow Homer watercolors and woodcuts.
Homer began his career as an illustrator for Harpers during the Civil War. After the war Homer continued producing material for the publication including a number of illustrations that accompanied children's stories and poems. This exhibition examines Winslow Homer's skill as an illustrator and early work with print publications, shedding new light on how this influenced his later work.
Winslow Homer
Sponge Fishing, Bahamas, 1885
Watercolor and Graphite on Paper
Gift of Bartlett Arkell, 1940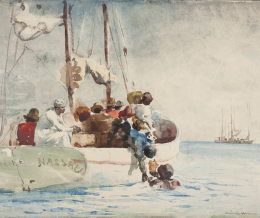 Water-Marks: Etchings, Monotypes & Paintings by Deborah Geurtze
August 10 – December 29, 2019
The work of New York State artist/printmaker Deborah Geurtze reflects a deeply rooted connection to the landscape
of New York State. This exhibit will include new and retrospective paintings, color etchings, and monotypes highlighting the Mohawk Valley and Erie Canal.
Of Hudson River Dutch ancestry, Geurtze is descended from a long line of draftsmen, engravers, and painters who immigrated to Albany in the mid-19th century. Her interest in printing was sparked while a teenager working for her uncle at the Fort Plain Standard – Canajoharie Courier.
I made offset plates for the Standard/Courier on Saturdays...when it was quiet and Uncle Bill (Clarke) could tutor me. That was where my interest in printing was piqued, but I had no idea how lush fine art printing was until I walked into the print shop in Potsdam...


Deborah Geurtze, 2019
This exhibition centers on the waterways, land forms, and people of the area where the southern reaches of the Adirondacks meet the northern reaches of the Catskills, and where rivers and streams tumble over and through the limestone and shale of the Mohawk Valley, celebrating the path of the Erie Canal.
The Noses (Mohawk River, East of Canajoharie), 2019
oil on linen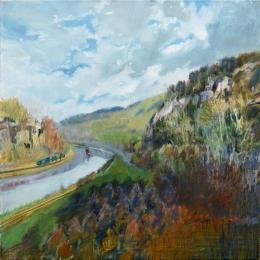 Pages