Surrounded: Sampling Burchfield's Wallpaper
June 26-September 20, 2015
This exhibition was organized by The Burchfield Penney Art Center at the Buffalo State College, Buffalo, NY
Charles Burchifeld is best known today for his fantastic watercolor landscapes, but from November 1921 to August 1929, he worked at the M. H. Birge & Sons Company, eventually becoming one of their best wallpaper designers. His designs were so highly regarded that they printed his name in the selvage. He based many of his early designs on watercolors he had produced in Salem, Ohio. Later designs were either company determined variations on traditional themes, or imaginative designs based on his special view of nature. This exhibition highlights works from the collection including color variations of wallpapers produced with rollers, original painted designs for wallpapers and coordinating fabrics known as cretonnes. The exhibition also features panels from the complex, block-printed scenic wallpaper, Country Life and the Hunt (c. 1922-1924) that had been removed from its original installation in a home in New England, donated by Gail and John Greenberger in 1999, and restored by paper conservator Patricia D. Hamm, with assistance of Eileen Saracino, James D. Hamm, and Tracy Dulniak.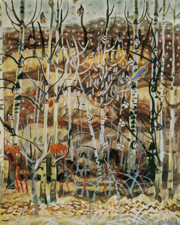 Arkell's Inspiration: The Marketing of Beech-Nut and Art for the People
This exhibition features late 19th and early 20th century American paintings purchased by Bartlett Arkell, the founder and first president of the Beech-Nut Packaging Company. Works by Winslow Homer, George Inness, Thomas Hart Benton, leading American Impressionists, and members of The Eight are displayed in the original Canajoharie Gallery that opened to the public in 1929.
Bartlett Arkell encouraged his marketing staff to use both his collection, and the works he purchased for Canajoharie, in their print ads. The result of this borrowing of images from oil paintings created by artists such as Edward Gay and J.G. Brown, was a series of ad campaigns that brought "art to the masses" and linked the virtues found in the paintings with Beech-Nut gum and food products.
Exhibitions are funded, in part, by the New York State Council on the Arts, a State Agency, the Windover Foundation and Fenimore Asset Management