Ogden Pleissner
Watercolors and Oil Paintings from the Arkell Collection
February 15, 2014 - June 1, 2014
Ogden Minton Pleissner said that he could be called "a landscape painter, a painter of landscapes who also liked to hunt and fish." He traveled out West, to Quebec, through New England and the South prepared with both fishing and sketching equipment. The Arkell collection includes both watercolors and oil paintings by this American artist who found success as an artist with his first solo show at Macbeth Gallery in 1933. Works in the Arkell collection date from 1936-1942 and depict diverse locations that include southern United States, Wyoming, Nebraska, and war time in the Aleutian Islands.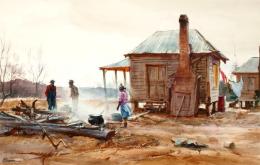 Of Time and the Mohawk River
February 15, 2014 – June 1, 2014
The exhibition features painted, sketched and printed views of the Mohawk River and Erie Canal from the mid 18th through the 21st century.
Arkell's Inspiration: The Marketing of Beech-Nut and Art for the People
Permanent Exhibition
Bartlett Arkell's collection of late 19th and early 20th century American paintings and the use of his collection to market Beech-Nut products is the focus of this exhibition. The exhibition is on display in Arkell's original gallery and in new exhibition spaces.
Bartlett Arkell, founder of the Canajoharie Library Art Gallery and the first President of Beech-Nut Packing Company, encouraged his marketing staff to use his collection in their print ads. The result of this borrowing of images from oil paintings created by artists such as Edward Gay and J.G. Brown, was a series of ad campaigns that brought "art to the masses" and linked the virtues found in the paintings with Beech-Nut gum and food products. Museum visitors have the opportunity to use images from the collection to create their own Beech-Nut advertisement to take home or mail as a postcard.
Exhibition funded, in part, by the New York State Council on the Arts, a State Agency.