Picturing Winter
September 26, 2015 - January 3, 2016
This exhibition, drawn from the permanent collection, features the work of 19th and early 20th century American painters admired for their winter landscapes. Artists in this exhibition include Winslow Homer, Andrew Wyeth, Walter Launt Palmer, Edward W. Redfield, Anna Mary Robertson Moses (Grandma Moses) and other artists famous for their distinctive views of winter.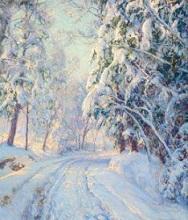 William Joyce: Guardian of Childhood
September 26, 2015- January 3, 2016
(Exhibition developed by the National Center for Children's Illustrated Literature, Abilene, Texas)
The exhibition includes pencil sketches, crayon drawings, lithographs, and paintings in oil and acrylic created by William Joyce for his books, television shows and films.
William Joyce has world-wide recognition as an author, illustrator filmmaker and pioneer in the animation industry. Books published by Simon & Schuster include The Fantastic Flying Books of Mr. Morris Lessmore, The Guardians of Childhood book series: The Man in the Moon, The Sandman: Story of Sanderson Mansnoozie, Nicholas St. North and the Battle of the Nightmare King, E. Aster Bunnymund and the Warrior Eggs at the Earth's Core! and Toothania: Queen of the Tooth Fairy Armies. His latest books are Billy's Booger,The Mischievians and Sandman and the War of Dreams.
Joyce co-founded Moonbot Studios a transmedia storytelling company specializing in books, apps, film and video games. Named by Newsweek magazine as "One of the 100 people to watch in the new millennium", William has been involved in the world of digital animation from its full-scale inception at Pixar Animation. His projects have been produced by nearly every major film studio including Disney, Twentieth Century Fox and DreamWorks Animation. His feature films include Epic, Rise of the Guardians, Robots and Meet the Robinsons. His television series include George Shrinks and Rolie Polie Olie for which he won three Emmy Awards. In 2012, he won an Academy Award for The Fantastic Flying Books of Mr. Morris Lessmore, an animated short film about the curative powers of story.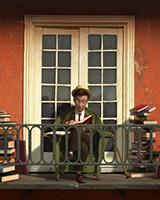 Arkell's Inspiration: The Marketing of Beech-Nut and Art for the People
This exhibition features late 19th and early 20th century American paintings purchased by Bartlett Arkell, the founder and first president of the Beech-Nut Packaging Company. Works by Winslow Homer, George Inness, Thomas Eakins, Childe Hassam and other leading American Impressionists, and members of The Eight including Robert Henri are displayed in the original Canajoharie Gallery that opened to the public in 1929.
Bartlett Arkell encouraged his marketing staff to use both his collection, and the works he purchased for Canajoharie, in their print ads. The result of this borrowing of images from oil paintings created by artists such as Edward Gay and J.G. Brown, was a series of ad campaigns that brought "art to the masses" and linked the virtues found in the paintings with Beech-Nut gum and food products.
Exhibitions are funded, in part, by the New York State Council on the Arts, a State Agency, the Windover Foundation and Fenimore Asset Management