George Inness: The Arkell Collection
June 7, 2014 - November 15, 2014
The exhibition features five landscapes from the permanent collection painted by George Inness between 1860 and 1882. These stunning works of art reveal the artist's diverse painting methods and approaches during the middle of his career—from detailed depictions of nature to gestural brushwork and vague landscapes. His paintings, often referred to as Tonalist, were deeply influenced by the spiritual teachings of Emanuel Swedenborg.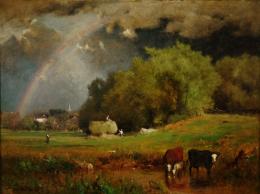 Winslow Homer: The Nature and Rhythm of Life from the Arkell Collections
September 2, 2014 - January 4, 2015
Members Opening Reception on September 5, 2014
Bartlett Arkell purchased and donated 20 Winslow Homer works to the Canajoharie Art Gallery. These watercolors and oil paintings, along with other Homer works Arkell acquired for his personal collection will be reunited for this exhibition that opens at the Fenimore Art Museum and then returns for a big celebration at the Arkell Museum in the fall 2014. These works span Homer's career from his first works in oil, to his first watercolors up to his fantastic marine painting at Prount's Neck, Maine "Watching the Breakers--A High Sea."