Pure Photography: Pictorial and Modern Photographs from the Syracuse University Art Collection
April 27, 2013 - July 20th, 2013
Photography's evolution as an art form has been influenced by countless individuals, thematic styles, and chemical processes. Initially, photography was used largely to document what surrounded or intrigued the public eye. As more individuals began using cameras, the idea grew that photography could be a form of art in addition to a form of documentation. This captured the attention of many artists, most notably Alfred Stieglitz, who formed the Photo Secession and helped establish Pictorialism.
The 30 photographers included in this exhibition have extensive histories that span thematic periods and artistic styles. Taking their cues from Master Photographers like Edward Steichen, artists such as Berenice Abbott and Manuel Alvarez Bravo built on that foundation in order to explore the very art of photography. Utilizing their cameras, they created a new, modern vision for photography with a revised understanding of the camera and its capabilities. No longer tied to a pictorial past, these artists, and others, gave photography its own unique definition as an art form based solely on its ability to capture and create striking images. As a result, they too are considered Master Photographers.
This Exhibition is funded, in part, by the New York State Council on the Arts- a state agency, Overbrook Managment Group, and the Montgomery County Occupancy Tax administered by the Montgomery County Board of Supervisors
Pastoral and Parkland: American Landscape Paintings
June 30, 2012 - April 21, 2013
Paintings of idyllic farmland and pristine parkland are included in this exhibition of American art from the Arkell collections. Thomas Doughty's idealized depiction of early New England's backwoods and Albert Bierstadt's painting of the majesty of Yellowstone are among the wilderness views. The exhibition also features pastoral and poetic and landscapes by George Inness, Ralph Blakelock, Henry W. Ranger and J. Alden Weir.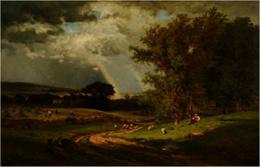 American Impressionism: Masterworks in Watercolor and Pastel
May 28, 2012 - October 23, 2012
This is a rare opportunity to view pastels and watercolors by America's leading Impressionist artists including Mary Cassatt, John Singer Sargent, Childe Hassam, Theodore Robinson, and Maurice Prendergast. Pastels and watercolors first gained recognition as finished works of art when French and American...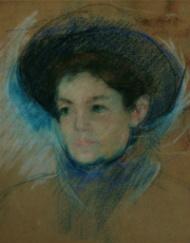 Pages