The Wizards of Pop: Sabuda & Reinhart
Organized by the National Center for Children's Illustrated Literature in Abilene, Texas
October 22, 2016 - December 30, 2016
The exhibition features the amazing work of pop-up book creators Robert Sabuda and Matthew Reinhart. The exhibition contains over 70 original works from 14 of their books including the classic stories of The Wonderful Wizard of Oz, Alice's Adventures in Wonderland, The Jungle Book and Cinderella. There are also works created for Encyclopedias on Dinosaurs, Sharks and Fairies.
This exhibition is supported by Fenimore Asset Management Fund.
Meet the artist Matthew Reinhart on November 12th. For details see http://www.arkellmuseum.org/events-calendar
Edward Buyck: Picturing the American Revolution
March 1, 2016 - October 30 , 2016
Edward Buyck (1888-1960) was commissioned to paint two historic views of Canajoharie as part of the Sesquicentennial celebration and pageant of Clinton's Brigade that brought boats overland from the Mohawk River at Canajoharie to Otsego Lake. Canajoharie's 150th anniversary celebration of Revolutionary War events opened with a two mile long parade that included floats carrying log cabins, stage couches, a wagon and other regional historic treasures from the American Revolution. Militia hauling boats in a reenactment of Clinton's Brigade at Canajoharie also marched along with the parade that attracted a crowd of 15,800 people on June 15, 1929.
The exhibition features both of the the paintings created by Buyck for the Sesquicentennial celebration along with 18th century paintings of Americans by Gilbert Stuart and Benjamin West.
Exhibitions are supported in part by the New York State Council on the Arts with the support of Governor Andrew M. Cuomo and the New York State Legislature.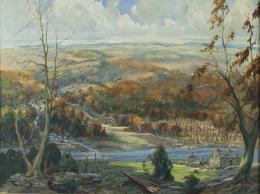 Rembrandt: The Consummate Etcher and other 17th Century Printmakers
March 1, 2016 - May 29, 2016
This exhibition, organized by the Syracuse University Art Galleries, explores Rembrandt's influence on the printmakers of his day.
Rembrandt is generally considered one of the most important figures in western art history. This ranking has been remarkably stable in the three hundred years since his death and is due, in part, to his virtuoso style, the wide range of subject matter that he included in his work, and his prolific output. Typically it is his painting that garners the most attention with the public, but his etchings demonstrate the same genius, diversity of subjects, and vitality that he generated with his brush. This exhibition brings together the printed work of Rembrandt and sixteen of his contemporaries. It has been arranged in thematic groups, landscapes, genre, portraits, and religious subjects, so that visitors may discover the similarities and differences as well as the technical achievements of these talented individuals.
This exhibition is supported in part by funds from Montgomery County.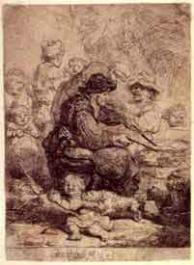 Pages