A View from the Shore: Winslow Homer's Impressions of the Coast
June 6, 2014 - August 24, 2014
This exhibition organized by the Syracuse University Art Gallereis highlights Homer's fascination with coastal and nautical scenes as an illustrator and special correspondent for the American pictorial press. The images include early illustrations for periodicals including Frank Leslie's Illustrated Newspaper and Harper's Weekly ,as well as rare lithographs and large etchings made after Homer's paintings. The exhibition defines Homer's transition from an illustrator of the pre- and post war years through his travels abroad that mark his evolution to the pre-eminent American painter of the late 19th century.
This exhibition, curated by Andrew Saluti, Assistant Director of the SUArt Galleries, features forty-one original prints including wood engravings, lithographs, and etchings. The exhibition is drawn from the permanent collection of the Syracuse University Art Collection, and focuses on the illustrious career of Winslow Homer as a draftsman and printmaker.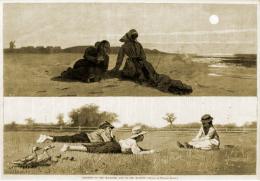 George Inness: The Arkell Collection
June 6, 2014 - January 4, 2015
The exhibition features five landscapes from the permanent collection painted by George Inness between 1860 and 1882. These stunning works of art reveal the artist's diverse painting methods and approaches during the middle of his career—from detailed depictions of nature to gestural brushwork and vague landscapes. His paintings, often referred to as Tonalist, were deeply influenced by the spiritual teachings of Emanuel Swedenborg.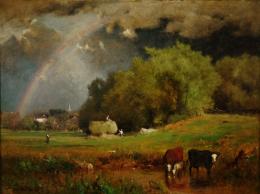 Ogden Pleissner
Watercolors and Oil Paintings from the Arkell Collection
February 15, 2014 - June 1, 2014
Ogden Minton Pleissner said that he could be called "a landscape painter, a painter of landscapes who also liked to hunt and fish." He traveled out West, to Quebec, through New England and the South prepared with both fishing and sketching equipment. The Arkell collection includes both watercolors and oil paintings by this American artist who found success as an artist with his first solo show at Macbeth Gallery in 1933. Works in the Arkell collection date from 1936-1942 and depict diverse locations that include southern United States, Wyoming, Nebraska, and war time in the Aleutian Islands.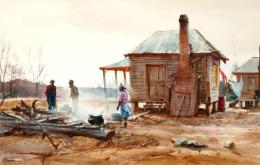 Pages