Picturing Winter
September 26, 2015 - January 3, 2016
This exhibition, drawn from the permanent collection, features the work of 19th and early 20th century American painters admired for their winter landscapes. Artists in this exhibition include Winslow Homer, Andrew Wyeth, Walter Launt Palmer, Edward W. Redfield, Anna Mary Robertson Moses (Grandma Moses) and other artists famous for their distinctive views of winter.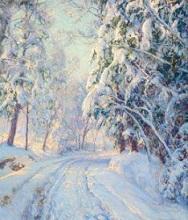 William Joyce: Guardian of Childhood
September 26, 2015- January 3, 2016
(Exhibition developed by the National Center for Children's Illustrated Literature, Abilene, Texas)
The exhibition includes pencil sketches, crayon drawings, lithographs, and paintings in oil and acrylic created by William Joyce for his books, television shows and films.
William Joyce has world-wide recognition as an author, illustrator filmmaker and pioneer in the animation industry. Books published by Simon & Schuster include The Fantastic Flying Books of Mr. Morris Lessmore, The Guardians of Childhood book series: The Man in the Moon, The Sandman: Story of Sanderson Mansnoozie, Nicholas St. North and the Battle of the Nightmare King, E. Aster Bunnymund and the Warrior Eggs at the Earth's Core! and Toothania: Queen of the Tooth Fairy Armies. His latest books are Billy's Booger,The Mischievians and Sandman and the War of Dreams.
Joyce co-founded Moonbot Studios a transmedia storytelling company specializing in books, apps, film and video games. Named by Newsweek magazine as "One of the 100 people to watch in the new millennium", William has been involved in the world of digital animation from its full-scale inception at Pixar Animation. His projects have been produced by nearly every major film studio including Disney, Twentieth Century Fox and DreamWorks Animation. His feature films include Epic, Rise of the Guardians, Robots and Meet the Robinsons. His television series include George Shrinks and Rolie Polie Olie for which he won three Emmy Awards. In 2012, he won an Academy Award for The Fantastic Flying Books of Mr. Morris Lessmore, an animated short film about the curative powers of story.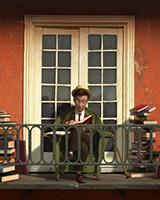 Surrounded: Sampling Burchfield's Wallpaper
June 26-September 20, 2015
This exhibition was organized by The Burchfield Penney Art Center at the Buffalo State College, Buffalo, NY
Charles Burchifeld is best known today for his fantastic watercolor landscapes, but from November 1921 to August 1929, he worked at the M. H. Birge & Sons Company, eventually becoming one of their best wallpaper designers. His designs were so highly regarded that they printed his name in the selvage. He based many of his early designs on watercolors he had produced in Salem, Ohio. Later designs were either company determined variations on traditional themes, or imaginative designs based on his special view of nature. This exhibition highlights works from the collection including color variations of wallpapers produced with rollers, original painted designs for wallpapers and coordinating fabrics known as cretonnes. The exhibition also features panels from the complex, block-printed scenic wallpaper, Country Life and the Hunt (c. 1922-1924) that had been removed from its original installation in a home in New England, donated by Gail and John Greenberger in 1999, and restored by paper conservator Patricia D. Hamm, with assistance of Eileen Saracino, James D. Hamm, and Tracy Dulniak.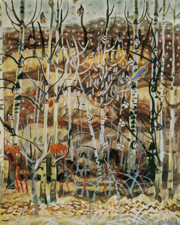 Pages