Myth Makers: the Art of Winslow Homer and Frederic Remington
Portland Museum of Art, Portland, Maine
September 25 – November 29, 2020
This fall Watching The Breakers - a High Sea by Winslow Homer travelled to The Portland Museum of Art to be part of their exhibition Mythmakers: The Art of Winslow Homer and Frederic Remington. The exhibition at the Portland Museum of art was the second of three legs of this travelling exhibition, and the only one in which the Arkell Museum had a painting.
This exhibition began in Denver, Colorado at the Denver Museum of Art in an exhibition entitled Natural Forces
Winslow Homer and Frederic Remington on view (and subsequently on hold due to the pandemic) from June 26, 2020–September 7, 2020.
The third leg of the exhibition brings Homer and Remington's work to Fort Worth, Texas to the Amon Carter Museum of American Art on view from December 22, 2020–February 28, 2021.
As the Amon Carter Museum states the exhibition has American icon Winslow Homer, famous ocean painter, joining Frederic Remington, legendary cowboy artist, for Mythmakers: The Art of Winslow Homer and Frederic Remington, the first exhibition to explore the unexpected resonances and moments of convergence between the themes, artistic sensibilities, and technical processes of these two artists. Homer and Remington were touted by turn-of-the-century critics as artists whose work reinforced an American identity rooted in action, independence, and communion with the outdoors. While both artists actively cultivated this reputation, the correlation between these two icons has never been considered in depth due to the perceived differences in their subject matter.
Winslow Homer
Watching the Breakers - A High Sea,1896
Oil on canvas
Gift of Bartlett Arkell, 1935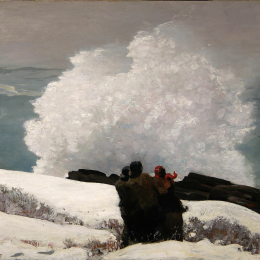 Homer at the Beach: A Marine Painter's Journey, 1869-1880
Cape Ann Museum, Gloucester, Massachusetts
August 3, 2019 - December 1, 2019
This summer, the Cape Ann Museum will exhibit some 50 original works by renowned American artist Winslow Homer. The exhibition will be the first close examination of the formation of this great artist as a marine painter. The Cape Ann Museum will be the sole venue for this exhibition, which will include loans from some 40 public and private collections. The Arkell Museum has loaned three of our Homer paintings: On the Beach, 1869; The See-Saw, ca. 1873; and Woman on the Beach, Marshfield, 1874. Of special note is the exciting reunion of the Arkell Museum's On the Beach and Beach Scene from the Carmen Thyssen-Bornemisza Collection, on loan at the Museo Nacional Thyssen-Bornemisza (Madrid, Spain) seen below right (the Arkell Museum's On the Beach is the larger painting on the right). Homer cut the canvas apart after receiving scathing reviews at the National Academy of Design in 1869. Their 2019 reunion is a rare moment in art history!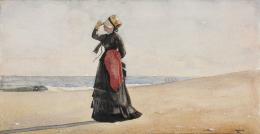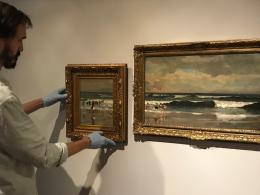 Pages