From Giverny to the Brooklyn Bridge: American Impressionist Paintings from the Arkell Collections
October 27, 2012 - October 20 2013
This exhibition features remarkable American Impressionist paintings from the Arkell collections. Twelve paintings recently returned from the Fenimore Art Museum's exhibition "American Impressionism: Paintings of Light and Life" will be featured along with other treasures from the permanent collection. Sun-dappled views of France and America by Childe Hassam, John Twachtman, Theodore Robinson, J. Alden Weir, and Edward Redfield are among the notable paintings in this exhibition. Most American Impressionists spent time in Paris and Monet's hometown of Giverny where they saw the work of French Impressionists. Once they returned to America they made the new Impressionist style their own. Views of the New England countryside, coastal communities and New York City were popular subjects for the American Impressionists. The exhibition includes Robinson's "Josephine in the Garden" in Giverny, Hassam's "Provincetown", Twachtman's "Gloucester Harbor" and Ernest Lawson's "Brooklyn Bridge."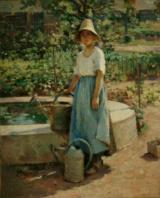 Mark Adams and Beth Van Hoesen: Life Observed Up-Close
March 29 - June 24, 2012
Mark Adams and Beth Van Hoesen chose realism at a time when other artists were creating abstract works of art. Many of the lithographs and etchings in the exhibition are up-close looks at nature and everyday objects. Mark Adam's large prints present single objects— a glass jar, cigar box or martini glass at a size much bigger than real life. Van Hoesen's attention is more often focused on nature rather than manufactured or handmade objects. She did, at times, create larger than life-size lithographs of flowers—but her animals and flowers were more frequently actual size or smaller, with skillfully drawn and etched details of texture and pattern. Mark Adams was a frequent subject of Van Hoesen's work, and the exhibition includes three portraits of Adams—all in his checkered suit.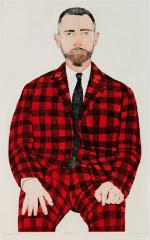 Rising From The Sea: The Art of Jay Hall Connaway
August 22, 2011 - May 20, 2012
Jay Connaway (1893-1970) painted in an era marked by the economic, political and social upheaval of World War I, the Great Depression and World War II. He painted in a bold Impressionist style and critics in the 1920s called him "the greatest sea painter since Winslow Homer."
Under the patronage of Bartlett Arkell, president of Beech-Nut Corporation and founder of the Canajoharie Library and Art Gallery, Connaway painted in Brittany, France. Arkell later provided Connaway with a house on the remote island of Monhegan, Maine. This exhibition includes paintings inspired by both the coastline of Monhegan Island and the landscape of Vermont.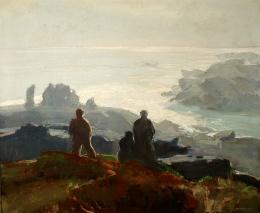 Pages