American Paintings from the 1920s & 1930s in the Arkell Collections
August 26, 2011 - March 24, 2012
American Artists in the 1920s and 1930s painted in a broad range of Realist, Impressionist and modern styles. Most of the paintings in this exhibition were purchased by Bartlett Arkell, the founder and first president of Beech-Nut Packing Company. Arkell began to collect paintings for the museum in the mid-1920s. This was a time when many American painters continued to work in styles influenced by the French Impressionists, while others were encouraged by Ashcan School artists to explore greater realism. During the 1930s, American artists became more interested in organic and geometric abstraction, but abstract art had a limited appeal with the public. Arkell favored Realist and Impressionist works that presented nostalgic views of America unchanged by industry - not avant-garde art. He acquired paintings by Impressionist and Ashcan School artists who had once shocked people with their controversial subject matter, but by the 1920s were hailed as America's greatest artists.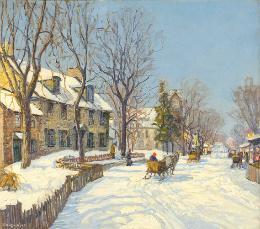 Drawn to the Same Place: The Drawings of Rufus Grider and Fritz Vogt 1885 - 1900
April 1, 2011 - August 14, 2011
Rufus Grider (1817-1900) and Fritz Vogt (1842-1900) sketched the farms, homes, stores and churches found in the Mohawk Valley. These two remarkable vernacular artists, whose personal stories and motivations could not have been more different, documented buildings and landscapes in the same rural New York region during 1890-1900. They were both German-speakers who came to the Mohawk Valley as adults. Grider, a Canajoharie schoolteacher, studied early accounts of the Mohawk Valley in an effort to reconstruct the past and document his interest in the fast-changing landscape. Vogt was an itinerant handyman and artist who produced his portraits of farms and homes as a way to earn a living. While they created their sketches for different reasons, their works viewed together provide us with a clear picture of of the past.
Exhibition funded, in part, by the New York Council for the Humanities, and by the Iroquois Gas Transmission System.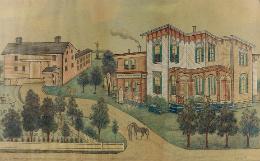 Look With Your Own Eyes: Landscapes, Portraits and Pastimes in American Paintings
October 2010 - March 22, 2011
Many of the stars of the Arkell Museum's remarkable collection of American paintings are featured in this exhibition. The exhibition showcases the rich variety of America's landscape from a western landscape of El Capitan by Albert Bierstadt, to Winslow Homer's dramatic crashing waves on the coast of Maine. Portraits in the exhibition include George Washington by Gilbert Stuart and everyday folk by Thomas Hart Benton. A glimpse at how American's spent their leisure time in the mid twentieth century can be seen be seen in The Sand Lot Ball Game by Paul Sample, and in circus scenes by Jon Corbino and Ogden Pleisner. The title of the exhibition comes from Gilbert Stuart who stated: "Paint what you see and look with your own eyes." Visitors will discover how realist artists' interpretation of "paint what you see" changed through the decades.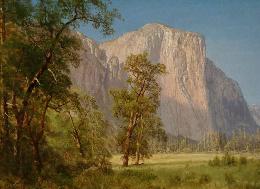 Pages