Reflections on Water in American Painting – The Phelan Collection
June 19, 2010 - October 3, 2010
Reflections on Water in American Painting is drawn from the collections of Arthur J. Phelan. The exhibition opens with the earliest form of American maritime painting – the grand academic-style portraits of graceful sailing ships – and includes waterscapes from the sea to the lakes and rivers of the American heartland, light-flooded impressionist visions of quaint New England seaside towns, and modernist renderings of industrial waterfronts and everyday life on the water. Highlights of the exhibition include James Bard's meticulously drawn Hudson River steamboat, Frank Benson's marshland with more than 30 rising ducks, William Trost Richards' breaking waves, William Merritt Chase's intense study of the Arno River, and Reginald Marsh's cathedral-like rendering of a New Jersey railway bridge.
Exhibition Contributing Sponsor: The Overbrook Managemnent Corporation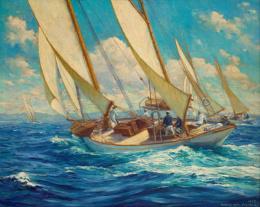 American Tonalism: Paintings of Poetry and Soul
February 27, 2010 – June 6, 2010
The Tonalist style of painting was embraced by many American artists from the 1880s through the early 20th century. The two European styles that influenced the development of American Tonalism were Aestheticism as it was practiced by the American expatriot James Abbot McNeill Whistler; and the French Barbizon style as it was spiritually interpreted by George Inness. A limited, muted palette and a misty poetic interpretation of landscape characterize tonalist works.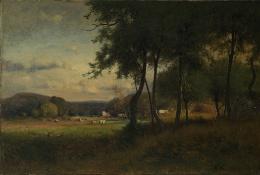 Picturing Women: American Artists' Images of Women 1780s-1940
March 4, 2010 - June 8, 2010
The Arkell Museum owns remarkable portraits of women painted by notable American artists such as Gilbert Stuart, Thomas Eakins and Mary Cassatt. This exhibition includes these portraits along with other painted views of women at leisure and perusing everyday activities. The representations of women in this exhibition range from young to old, and from entirely decorative to thoroughly personal. Some are formally posed portraits while others, such as Reginald Marsh's watercolor A Windy Day, capture a specific snap-shot moment in time.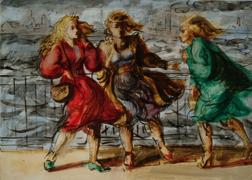 Pages